It's a warm, summer day. I can hear birds chirping in the cottonwoods and water gurgling in the Musselshell River as I walk east following the dirt path. Butterflies flit among the high grasses growing on either side but there are also signs of cattle having been here. In fact, I can see ahead and over to the north many heads of grazing cattle, even to the horizon, some singly and others in groups. This is open range and since Harold Lowther, an Englishman, buys out the NF Ranch from James Hightower, Lord Lowther is adding considerably to the number of cattle owned by the ranch. Supposedly, there are thousands of cattle ranging east and west about 75 miles. And south from the high ridge of the Bull Mountains divide, they range north about 25 miles or more. At least, this is what I hear after my cousin leaves.
My cousin is Mrs. McMillin, wife of James who is the store-owner, saloon-keeper, and postmaster in Roundup, Montana Territory. I arrive summer in 1883, to help her after their daughter's death in April. It is a difficult time living with the death of a two-year-old. A year later, though, they decide to move back east closer to the McMillin side of the family. I choose to stay on and help Sid Erwin who not only buys the store and saloon from James and takes over the post office, but he also owns and operates a roadhouse [like a motel].
I am invited this day to go to the neighboring NF Ranch, four miles east of the fledgeling town of Roundup. It's 1895 and it's not the first time I've been to this ranch. Although not many have known her, I've visited here in the past with the wife of James Hightower. They sell out their interest in 1885, though, and move to their new ranch on Willow Creek about 25 miles north.
I understand that receiving an invitation to the NF Ranch is a compliment. Cecil Clifton, another Englishman, is now Lord Lowther's partner, since he buys out the interest of Hill, Lord Lowther's previous partner, seven or eight years ago. One of Mr. Clifton's favorite activities is playing the piano. In fact, he has a grand piano in his cabin. His cabin, I understand, is a mirror copy of Lord Lowther's cabin attached by a "dog walk" [inside breezeway] just to the west. It is said that only one woman thus far has been invited to visit this cabin. Mrs. Strait, whose husband owns the store in Lavina, plays piano very well, and since this is the only piano between Billings 50 miles south and Lewistown 75 miles north, she jumps at the opportunity to play for Mr. Clifton. And now it's my turn.
I come into view of the ranch. And continue walking. Not only is there more land now and more cattle, but I can see new outbuildings in the distance. There seem to be an ample number of them and of high quality from what I can tell. One, I hear, is a chicken house built especially for Mr. Clifton's exotic chickens and rabbits. Rarely would one see these kinds of breeds around these parts but he's really into this kind of thing.
As I get closer to the ranch house, I see a horse tied up at the hitching post with a platform buggy still attached. This is probably Mr. Clifton's outfit; he may just be returning from a morning ride in the clear, fresh air. He rarely rides horseback I'm told. And then, just as I arrive, a tall, slim, immaculately-dressed youngish-type man steps out the front door. He wears a cap [like the later-Sherlock Holmes] and displays a droopy-type of mustache. Somewhat startled for the moment, he then breaks into a shy smile and seems friendly, however.
"Hello," he greets me. "It's good to see you again, Sarah. Welcome to the NF Ranch. Please, come join me inside. I'll have one of the boys move the bay and buggy to the back later."
We pass through the outer door of the "dog walk" into a dark, cool hallway. Almost immediately, on the left he opens another door and we step into his kitchen, a large room it seems. Ah, it is cool in here as well. Maybe the high ceilings collect all the heat. Without realizing it, I almost collide with another person in the room.
"Oh, let me introduce you to Lipp." As I shake his hand, Lipp nods diffidently. He is short, not much taller than me, and is of Chinese descent. With a little smile and saying nothing, he turns back to cooking at the blue wood-burning stove along the wall. "Lipp is our person-of-all-trades," explains Cecil. "He does all our cooking, cleaning, gardening and laundry. We couldn't function very well without him." And to Lipp, "Ask one of the boys to take the bay and buggy to the back." Then turning to an open doorway, he continues, "In here, please. Let me show you the piano."
We step into what is obviously the living room. A large fireplace appears on one wall, dark wood furniture some topped with marble, some with leather, are placed along the other two walls. And straight ahead of us sits the grand piano along the fourth wall. It too is made of dark wood and has a boxy shape. Scrollwork is carved onto the wooden trim underlying the keyboard. The music holder is so intricately cut it looks like filigree. The legs are massive and ornately hewed out where they connect to the piano but then taper down to claw feet at the floor. And the backdrop to the floor pedals is carved into the shape of a harp. Brightly lit at each end of the keyboard and set back toward the center are two gas lanterns, with hanging crystals that reflect their light, even on a sunny day. The beauty of it all takes my breath away.
Cecil sits at the piano and begins to play. His skill is readily apparent; he makes a very difficult piece sound effortless. Maybe it's a Brahms Overture? I follow with playing popular tunes I learn before coming to Montana. Like, "Blow the Man Down", "Sailing, Sailing", and "Funiculi Funicula". It all comes back. He smiles as he listens but I get the feeling that classical music is more his style.
Despite that, however, he invites me to be seated on the long sofa, as he settles himself in the matching leather-covered chair. He inquires as to my well-being and asks about my working for Mr. Erwin. Although he seems somewhat shy and very reserved, I am curious about his life and can't help asking questions.
"Forgive me, Mr. Clifton. How do you like living here so far from home? I've not yet been introduced to Lord Lowther. Did you two arrive together from England? What kind of a person is he?" More questions about the backgrounds of both men follow. In a reserved but patient and polite way, Mr. Clifton begins telling me their stories. [To be continued in the next newsletter.]
In the first photo, note the main door to the NF Ranch which separates Clifton's cabin from Lowther's cabin. The second photo shows Clifton's side which is currently on display at the Musselshell Valley Historical Museum.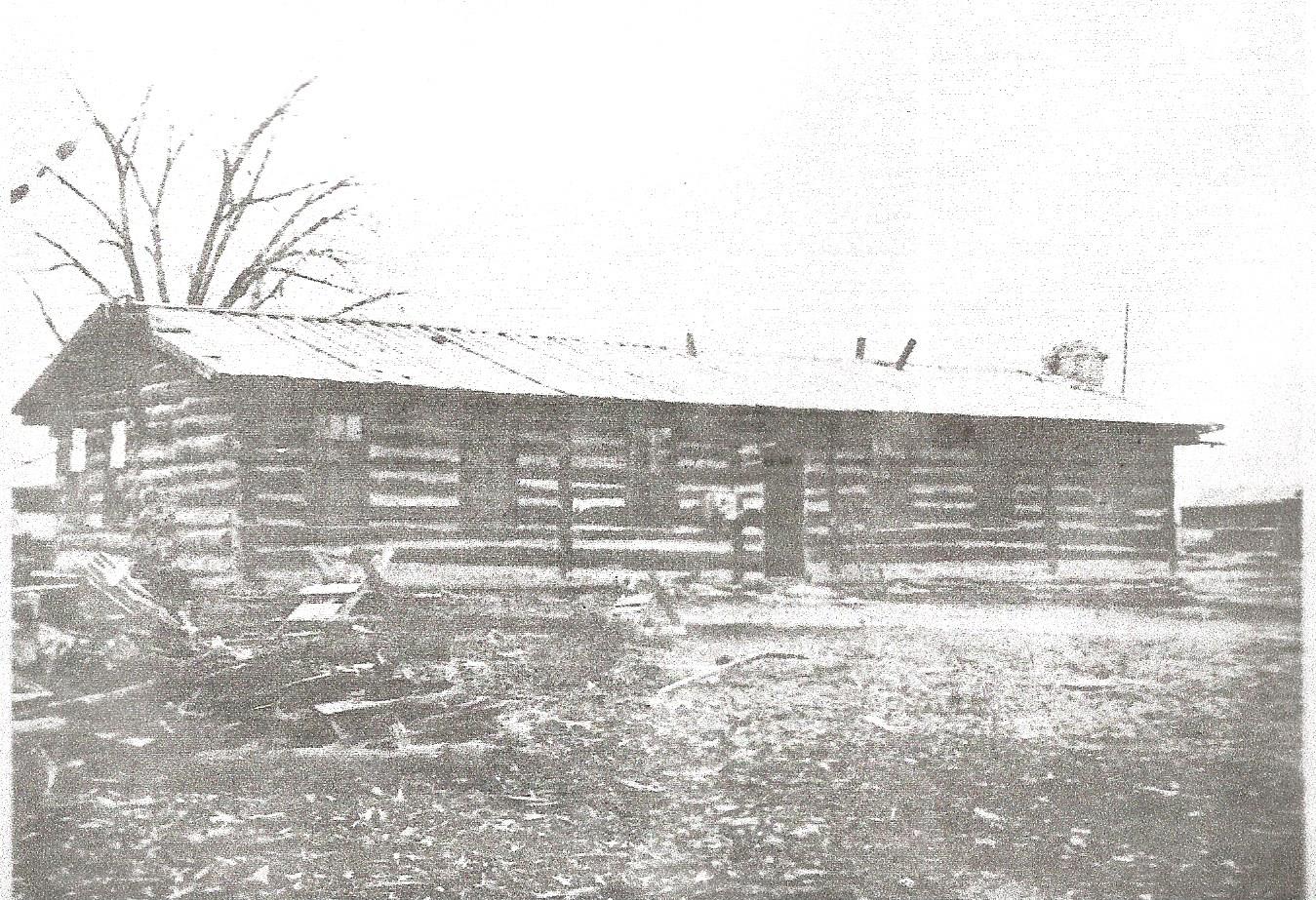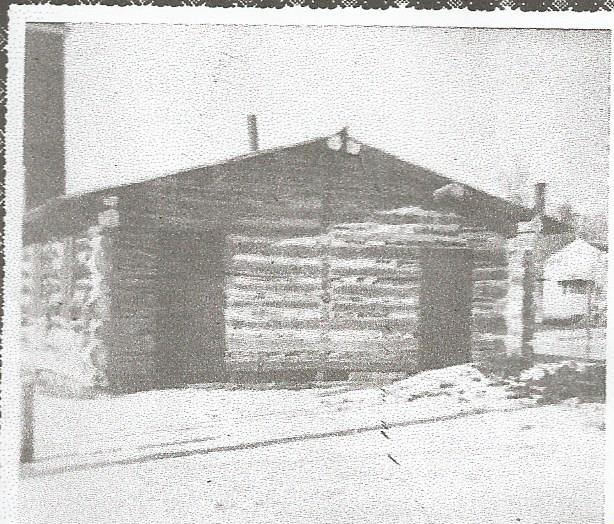 THE OLD WILD WEST – as in ROUNDUP, MONTANA: Part Six
By Edith Sloan, February 28, 2014
[In our last segment, it is the year 1895 and Sarah tells of her visit to the NF Ranch, four miles east of Roundup. At Cecil Clifton's invitation, she gets to see the ranch home and his prized piano which she tentatively plays for him. He invites Sarah to be comfortably-seated when she begins querying him about himself and his partner in the ranch, Lord Lowther.]
Mr. Clifton sits quietly in his chair, seemingly shy and reserved but ultimately comfortable enough in his own skin. Since he does not seem to resent my questions, I jump right in.
"I know your partner is Lord Lowther about whom I've heard some interesting stories. But first I'm wondering how you arrived in the Montana Territory from England? What caused you to want to come here, so far from home? Were you born in England and what about your family?"
"Whoa, there," Mr. Clifton smilingly responds. "I'll do my best to just hit the highlights of my background. And then that of Lord Lowther, at least what I know anyway. Otherwise, we could be here all night." He reaches over to the marble-top table, picks up his pipe resting there, tamps in the tobacco from a bag and, as I patiently wait, lights up.
As smoke wafts toward the high ceiling, while studying me through the haze, he begins. "I know that some people round-about refer to Lowther and myself as "remittance men". Do you know what that is?" I shake my head, no, and he continues. "Remittance men could be anyone living away from home (in our case England) while being financially supported by their families. Remittance men can be a derogatory term meaning wastrels, irresponsible and not pulling their own weight. However, most friends here recognize that neither Lord Lowther nor myself spend our time gambling or drinking overly much.
"Yes, yes," I interrupt excitedly. "That's true. And people say that you tend not to lose your tempers and you don't spend any time courting women." Feeling a blush rise to my face, I soldier on. "What I mean is that you adhere strictly to the code of English gentlemen, that's what they say. In fact, that's why I felt comfortable accepting your invitation to visit today." My embarrassment subsides and I sit straighter on the sofa.
"Thank you. I appreciate your confidence." His touch of a smile fades as he explains further. "In another way, however, we may be similar to remittance men in the sense that we are younger sons in our families and not in line to inherit family property, as are our older siblings. So I have come here to find my own way, and, with some financial help from home, to settle and live. That's how I see myself, anyway. Lord Lowther, on the other hand, may have that reason too but he may also have an additional reason, at least initially. He has an impediment in his speech which causes him to stutter quite noticeably. With his family, that may mean he can't rise into aristocratic society like his brother and so he comes here to live."
Mr. Clifton sighs and continues. "Be that as it may, our aristocratic families in England are certainly not a detriment. Just buying my piano and then having it shipped here certainly required some help financially." I nod. I had wondered about that – it must have been terribly expensive.
"Actually, my family is of noble birth," he continues. "My parents live in Lancashire, England, where the Clifton side of the family has had estates since the 11th century. My mother, known as Lady Bertha Hastings, comes from a long line of noble ancestry and claims the barony of Grey de Ruthyn. Do you understand what that means?" he asks me.
"Not really."
Mr. Clifton goes on. "Inherited titles in England can be very confusing to an outsider. However, the barony of Grey de Ruthyn is a title granted to my mother's family by the Queen of England; her father, my grandfather, had also been a Captain in Royal rifles during the Crimean War in the 1850's. The title means that when my mother passes away, my elder brother will inherit it and become Lord Grey de Ruthyn. And if he should pass away before me, that Lordship will come to me [Cecil Clifton does inherit the title of Lord Grey de Ruthyn upon his brother's death after Clifton's return to England in the 1920's].
"I, though, was actually born in Kirkcudbright, in Scotland in 1862, so I'm__"
"What?" I interrupt excitedly. "You were actually born in Kirkcudbright?" [pronounced Kir-COO-bree]
"Why, yes," he responds, looking at me in startled surprise.
"But that's where some of my father's ancestors lived. His McClelland family line built the MacClellan Castle that still stands not far from the sea in Kirkcudbright!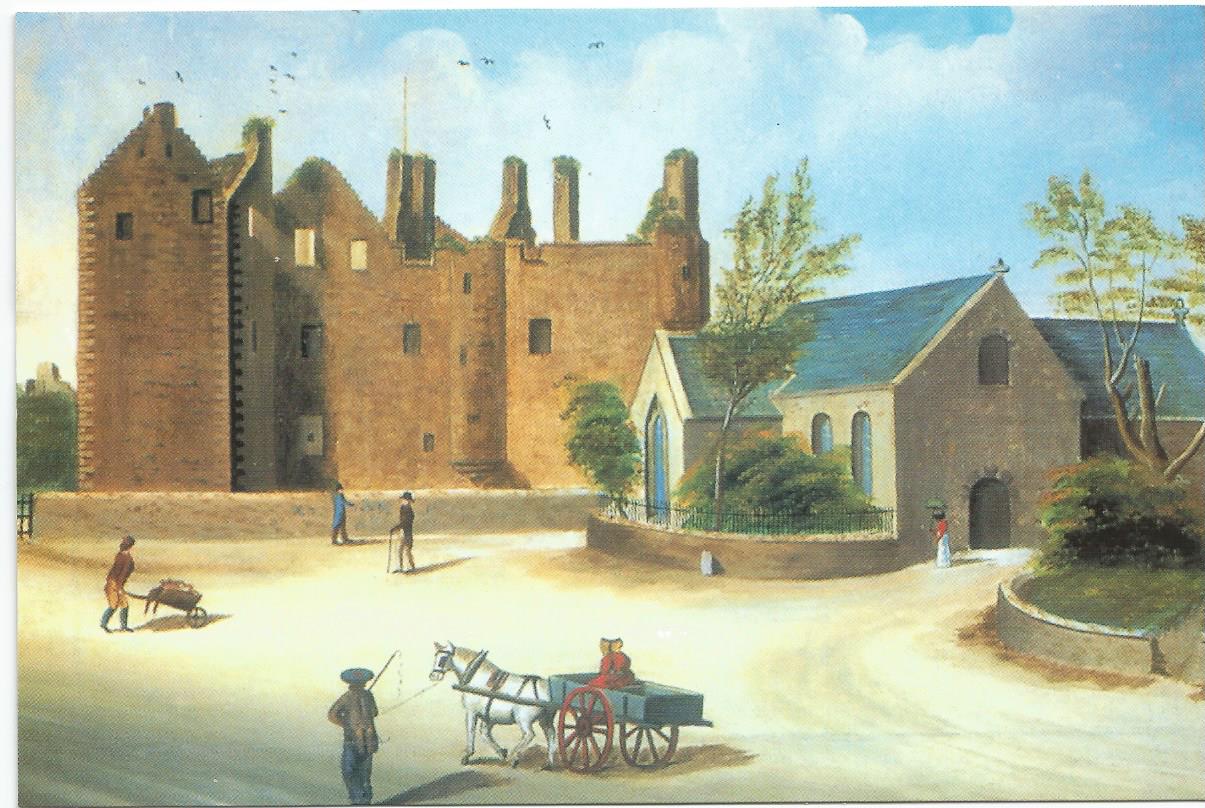 "Yes, I've heard of the Castle. Small world, isn't it?" He hurries on. "But I didn't learn much about Kirkcudbright when there because I was so young. My education came through private tutors and later, for four years, I was a student of agriculture. It was when I met Lord Lowther that I decided to join him in coming to America. My study of agriculture whet my interest in the new world.
"And, speaking of Lord Lowther, do you have any specific questions? I must be clear that, though I arrived here in America with Lowther in the early 1880's, I did travel in Canada for four years before locating him again and buying out Hill. Hill had an interest in the NF Ranch with Lowther at the time. In other words, we are partners in business, we share this ranch and Lipp works for both of us, but we each do our own thing primarily. We are almost exact opposites. In fact, Lord Lowther just happens to be on his way back from England now -- and me? I return to England only rarely. I really don't enjoy traveling across the ocean.
"You saw my out-building that houses my exotic chickens and rabbits? I enjoy collecting different varieties from all over the world. It may be just an eccentricity of mine but I do take care of the dog by perfuming him with expensive toilet soaps."
Oh, so that's where that sweet fragrance came from as the dog streaked by me when I entered the front yard, I remind myself. Strange habits this man has.
"And I love to read," he adds. He points to a stack of books along the adjacent wall that I had missed when coming into the room. "Some call me a voracious reader. But it's my small animals, my piano, and my books that are my absolute favorite things. [And what about Lord Lowther? Next issue.]